This episode is primarily for the person "on the inside looking out." You're busy with your work (and you may even love what you're doing), but you have a growing compulsion to do something new, something different.
But you don't know where to start.
My conversation with Bill McGinnis might be just what you're looking for. Having grown a whitewater rafting company to a very successful endeavor over 38 years, he sold it off and is not writing novels full time.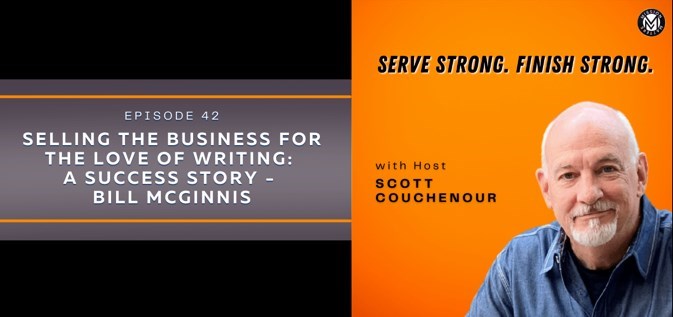 We reflect on the rafting, rivers, selling a business, succeeding, failing, writing, procrastination, and living the best life ever.
You won't want to miss this conversation. Click the Image above to Listen.
In 2012, Bill McGinnis published his first thriller novel, Whitewater: A Thriller. The next year, in 2013, after outfitting for 38 years, he sold his company in order to focus on writing the award-winning Adam Weldon Thriller Series, which now includes: Gold Bay, Cyclops Conspiracy, and Slay the Dragon. Both fun and thought-provoking, these fast-paced thrillers keep the reader hooked from beginning to end.
According to The Epoch Times, McGinnis has "an intriguing writing style" that uses "fiction to provide facts" and "storylines that are contemporaneous with current world events."
To learn more, visit: www.servingstrong.com
Listen to more episodes on Mission Matters: www.missionmatters.com/author/scott-couchenour