RECENT MEDIA
Ken Streater's Good Change Podcast with William McGinnis

Pondering Leadership, Writing, and the Beauty of Life's Voyage a Conversation with William McGinnis

Interview with international thriller author William McGinnis
Cyclops Conspiracy: An Adam Weldon Thriller
by William McGinnis
"McGinnis pioneered whitewater rafting in California…now he boldly sails into epic saltwater fiction!"
—Lee Foster, Travels in the American Imagination & Northern California Travel
Nuclear bombs are being smuggled in suitcases by Islamist terrorists on under-the-radar sailboats through the Greek Islands on their way to multiple key targets in Europe and America.
Can ex-Navy SEAL Adam Weldon and his girlfriend, an FBI sharpshooter, join forces with a mesmerizing Interpol drone expert to stop the planned destruction?
Set in the Greek Islands and Washington DC, this taut thriller delivers twists and surprises that will keep you on the edge of your seat to the very last page.
Adam Weldon is a slam dunk for lovers of Vince Flynn's Mitch Rapp, Lee Child's Jack Reacher, Ian Fleming's James Bond, and Mark Greaney's the Grey Man.
Be sure to get Gold Bay – An Adam Weldon Thriller if it's not already on your shelf and follow author William McGinnis on Amazon to be notified of the next installment.
Midwest Book Review:
Set in the Greek Islands and Washington DC, "Cyclops Conspiracy" by William McGinnis is a taut, deftly written, and thoroughly entertaining thriller that delivers twists and surprises that will keep the reader totally engaged and compulsively turning pages from cover to cover.
While highly recommended, especially for community library Contemporary Suspense/Thriller collections, it should be noted for the personal reading lists of dedicated action/adventure fans that "Cyclops Conspiracy" is also readily available in an inexpensive digital book format.
–Midwest Book Review
=============
Literary Titan Review:
Writer William McGinnis says that Adam Weldon is his favorite character, and indeed he does feature in a number of McGinnis's action tales. Weldon is a MacGyver type – an ex-Navy SEAL who can turn any tricky situation to his advantage. Unlike MacGyver, however, he does so with a gun in one hand and in the other, an encyclopedic knowledge of how to kill someone bare-handed, Jack Reacher style.
In Cyclops Conspiracy, Weldon teams up with his girlfriend, Tripnee, an FBI sharpshooter, and an alluring drone expert called Sophia. Together, they set sail to prevent World War III.
The action takes them around the Greek Islands and, eventually, all the way to the White House as they attempt to foil the plans of Islamic extremists set on jihad. McGinnis clearly knows his way around a yacht,….. McGinnis draws on the Cyclops / Greek mythology connection as well.
Throughout the book, the people are beautiful and the bad guys are very bad; the men are tough and resourceful, the women are … strong female protagonists. While the characters were engaging and perfect vehicles to deliver entertaining action scenes, I look forward to seeing them developed further in future novels as they're interesting characters, but I feel we're only scratching the surface.
For fans of action-adventure novels there is plenty of violence and threat and lots of shooting with heads disappearing into red mists and a clever twist at the end. Cyclops Conspiracy is a thrilling action novel that will appeal to fans looking for a straightforward story with relentless action.
—Thomas Anderson, Literary Titan
===============
Underrated Reads Review:
If you like spy thrillers, Cyclops Conspiracy is an exciting fast-paced story you'll enjoy. This is the third book featuring the ex-Navy Seal Adam Weldon and his girlfriend, Tripnee, as they try to retrieve small nuclear bombs stored in suitcases.
Interpol adds a female operative to the group who specializes in drone technology…
The book moves fast and is action-packed. The Greek Islands provide the perfect setting to play hide and seek with the enemy. There is no time to rest as each battle leads to another more serious conflict and the details on how to lure the terrorists gets more dangerous with each passing day. Just when you feel the heroes are surrounded, they come up with fascinating ways to surprise their attackers.
Then when they come back to Washington D.C. to get rewarded for their valor, a sudden change catches everyone off guard and the whirlwind chaos leads to a surprising ending.
If you like action adventure, you will enjoy Cyclops Conspiracy.
—-Reviewed by Don Jung, Underratead Reads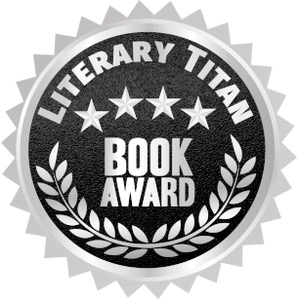 The Literary Titan Book Award
Received by William McGinnis July 2021!
The Literary Titan Book Awards are awarded to books that have astounded and amazed us with unique writing styles, vivid worlds, complex characters, and original ideas. These books deserve extraordinary praise and we are proud to acknowledge the hard work, dedication, and imagination of these talented authors.