RECENT MEDIA
Ken Streater's Good Change Podcast with William McGinnis

Pondering Leadership, Writing, and the Beauty of Life's Voyage a Conversation with William McGinnis

Interview with international thriller author William McGinnis
Cyclops Conspiracy: An Adam Weldon Thriller
by William McGinnis
"McGinnis pioneered whitewater rafting in California…now he boldly sails into epic saltwater fiction!"
—Lee Foster, Travels in the American Imagination & Northern California Travel
Nuclear bombs are being smuggled in suitcases by Islamist terrorists on under-the-radar sailboats through the Greek Islands on their way to multiple key targets in Europe and America.
Can ex-Navy SEAL Adam Weldon and his girlfriend, an FBI sharpshooter, join forces with a mesmerizing Interpol drone expert to stop the planned destruction?
Set in the Greek Islands and Washington DC, this taut thriller delivers twists and surprises that will keep you on the edge of your seat to the very last page.
Adam Weldon is a slam dunk for lovers of Vince Flynn's Mitch Rapp, Lee Child's Jack Reacher, Ian Fleming's James Bond, and Mark Greaney's the Grey Man.
Be sure to get Gold Bay – An Adam Weldon Thriller if it's not already on your shelf and follow author William McGinnis on Amazon to be notified of the next installment.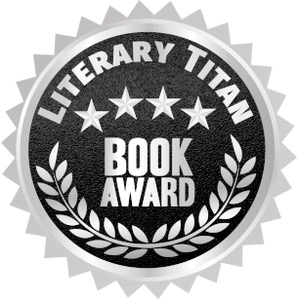 The Literary Titan Book Award
Received by William McGinnis July 2021!
The Literary Titan Book Awards are awarded to books that have astounded and amazed us with unique writing styles, vivid worlds, complex characters, and original ideas. These books deserve extraordinary praise and we are proud to acknowledge the hard work, dedication, and imagination of these talented authors.