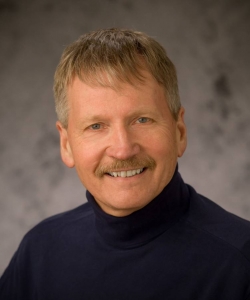 Born in Richmond, California, Bill McGinnis grew up hiking the hills and creeks of the East Bay, building carts and forts with his brother Gregor in their backyard, and exploring San Francisco Bay by raft, canoe, and sailboat. From age 16 on through college and graduate school, McGinnis seized every opportunity to raft and canoe rivers throughout California and beyond.
At Richmond's Harry Ells High School, he presided over the chess club, served on the senior board, competed in impromptu and extemporaneous tournament public speaking with David Dansky's Forensics Club, and wrote poetic, satiric and philosophical tidbits.
After earning Bachelor's and Master's degrees in English Literature at San Francisco State University, Bill wrote the first thorough guide to the art of river rafting. Published by the New York Times in 1975, Whitewater Rafting received strong reviews, went into multiple printings, and was long considered the bible of the sport.
Also in 1975, Bill founded Whitewater Voyages with two rafts and a $500 gift from his grandmother Mary Thompson. Under Bill's leadership, Whitewater Voyages set new standards in guide training and trip quality, and as a result steadily grew to become California's largest rafting company at that time, guiding more people on California rivers than any other outfitter.
In 1981 McGinnis published the first Guide's Guide, which was followed in 2006 by The Guide's Guide Augmented: Reflections on Guiding Professional River Trips. Used by guides, boaters, outfitters, recreation resource managers and trip leaders throughout the world, The Guide's Guide Augmented presents a comprehensive philosophy and detailed methods for creating what Bill calls "Deep Fun": Life enhancing trips which entertain, inspire, educate, thrill, heal and delight!
While he has a number of first descents and pioneering raft runs in California and throughout the world to his credit, McGinnis says it is his influence on guiding that he is most proud of. "On the river—and pretty much everywhere—an atmosphere of acceptance, inclusion, and appreciation helps people move from fear to confidence to joy," he says. "Nurturing, holistic guiding inspires openness, trust and camaraderie."
In recognition of his many contributions to the sport of rafting, in 2000, Bill was named one of the "Top 100 Paddlers of the Century" by Paddler Magazine, the leading national paddle-sport publication.
In 2011, McGinnis published the ebook Sailing the Greek Islands: Dancing with Cyclops, a true, sometimes hilarious narrative of his adventures skippering a catamaran on the Aegean Sea crisscrossing the wake of Ulysses.
McGinnis' 2012 novel Whitewater: A Thriller interweaves a rough-and-tumble murder mystery, drug-cartel plot, lyrical nature writing, his holistic philosophy, and a breathtaking series of white-knuckle encounters in and out of the rapids of California's Kern River.
Bill's current project is a sequel to Whitewater: A Thriller to be called Gold Bay. A crime thriller, Gold Bay will encompass not only the natural wonder that is San Francisco Bay, but also the entire Bay Area—including Silicon Valley, San Francisco, Marin, Napa, and the East Bay—during an imagined near-future time of societal turmoil, cultural renaissance, and spiritual awakening.
In addition to writing, sailing, and rafting, McGinnis' passions include hiking, biking, woodworking, tai chi chih, staring into space, and exploring new paths to adventure, friendship and growth. Bill lives beside a creek in El Sobrante, a town in Contra Costa County across the bay from San Francisco.