Legends of Rafting: Bill McGinnis
CanoeKayak.com  May 24, 2017
http://www.canoekayak.com/inflatables/legends-rafting-bill-mcginnis/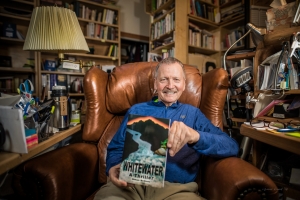 Interview by Tyler Williams // Portraits by Rommi Linnik
Bill McGinnis helped take commercial boating from its crude roots to the polished professionalism it practices today. In 1975, McGinnis wrote Whitewater Rafting, the first source on the techniques of the sport. That same year, he started Whitewater Voyages, which grew into California's largest and most diversified river outfitter. McGinnis's guide-training programs became industry standard, and his variety of trips offered were unequaled. For decades, if you were a boatman who wanted to guide the hard stuff, you worked for Voyages. A true believer in the potential for inspired growth on commercially guided trips, McGinnis bred a culture of inclusivity. His quest for "Deep Fun," has been widely emulated. His books on rafting and guiding (he's written four, and seven books total) wielded broad influence, and the California rivers that McGinnis pioneered for rafting have become standard fare for later generations.
My love for nature was shared with my older brother, Gregor. As kids, we hiked creeks near our home whenever we could. Gregor always came up with business schemes — tool sharpening, donut making. I usually had a role, too, like finding customers.
San Francisco Bay became our playground. We put a sail on a canoe, but it got swamped repeatedly, so we found some huge driftwood logs and made a tri-maran. It had a deck and a cabin, even a stove. We'd sail it to Brooks Island and camp out at a fort we'd built there. We tried to take it beyond the Golden Gate once, but the Coast Guard spotted us and warned us of the shipping lanes, so we headed back. That wasn't the last time the universe took care of me.
Gregor bought an 11-foot raft for $20. That was the start of our river running. We took it down the Stanislaus before it was dammed.
In the 1960s and '70s, the Sierra Club's River Touring Section was where you met river-runners, and I met Northern California pioneer Bryce Whitmore there. He owned a company called Wilderness Waterways, and he asked me if I wanted to be a guide.
On a training trip down the South Fork of the American, the boat I was in popped an oar above Satan's Cesspool—the BIG portage! We came out the bottom just fine and I thought, 'this really isn't so bad.'
After that, I started organizing my own trips with friends at San Francisco State University. We shared the expenses, but I needed a little more money to replace equipment.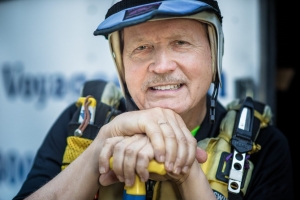 One day I propped the 11-foot raft against a tree at UC Berkeley with a sign that read, "Raft trips to wild places — cheap — inquire here." I wrote the sign in French to give it a little more panache. The cops moved me off campus, so I set up on the street. Then the city police shut me down too, but by then I had a notebook full of interested names.
From that list, I took people rafting all over the West: Eel, Rogue, Salmon. We even went to British Columbia and ran the Clearwater. I had my first big mishap there and nearly drowned. That was an important lesson.
After getting my master's degree in English Literature, I wanted to write a book and thought, 'Why not a book on whitewater rafting?' I interviewed many of the experts: Don Hatch, Bill Center, Dick Linfold. I realized that nobody knew what the next guy was doing. The book really became a collection of knowledge.
The New York Times published Whitewater Rafting in 1975. That was the first of several books I wrote related to rafting, including The Guide's Guide, and River Signals. But Whitewater Rafting was the bestseller, and it launched me into outfitting. In the book's appendix, I listed outfitters. I figured that if I ever wanted to be an outfitter, I better put myself on that list. So I did, and that really shifted my intentions.
Whitewater Voyages ran its first trip later that year. The Kern was our bread and butter. Eventually, we started rafting the Class V Forks of the Kern.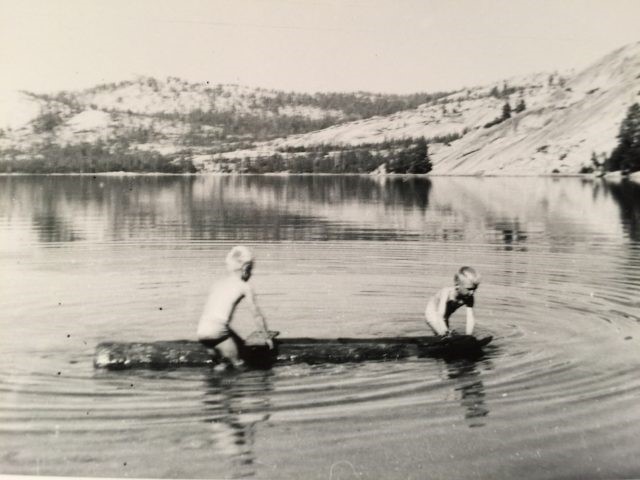 McGinnis's first raft (two-log cataraft) with his brother Gregor at Tanaya lake in Yosemite National Park.
Archival photos courtesy Bill McGinnis.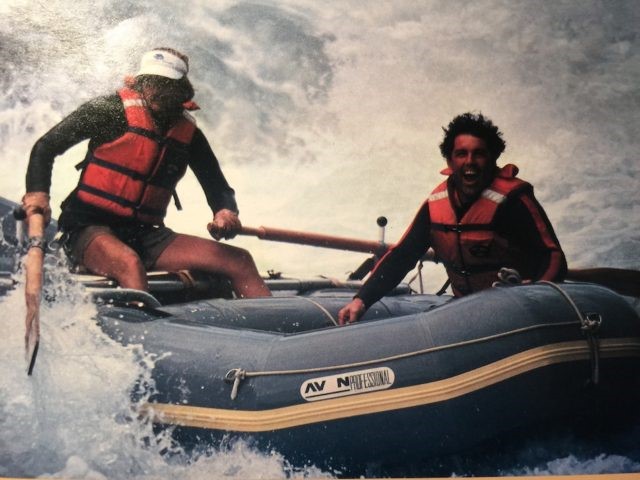 First known raft run of Carson Falls on the Forks of the Kern, pre-helmet era (1981).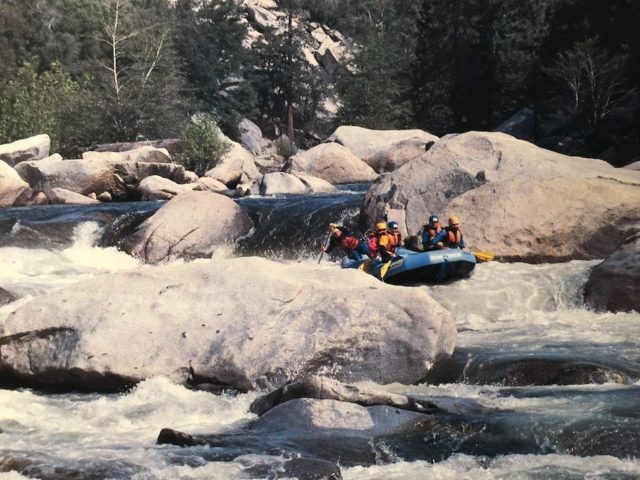 Running Vortex on the Forks of the Kern in the early '80s. Courtesy McGinnis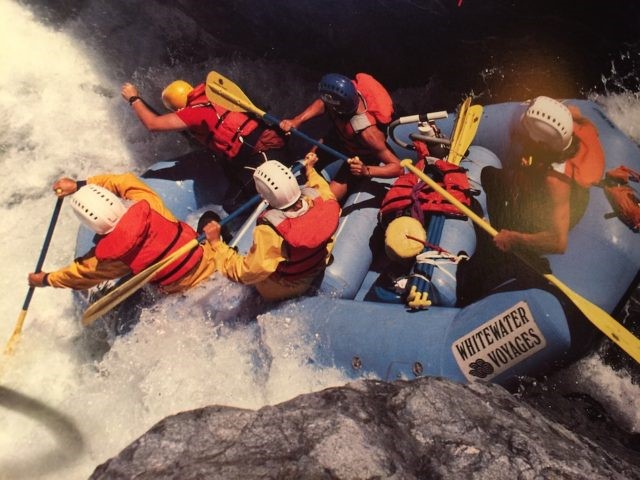 Running Jaws/Upper Burnt Ranch Falls in Burnt Ranch Gorge in the early '80s. Courtesy McGinnis.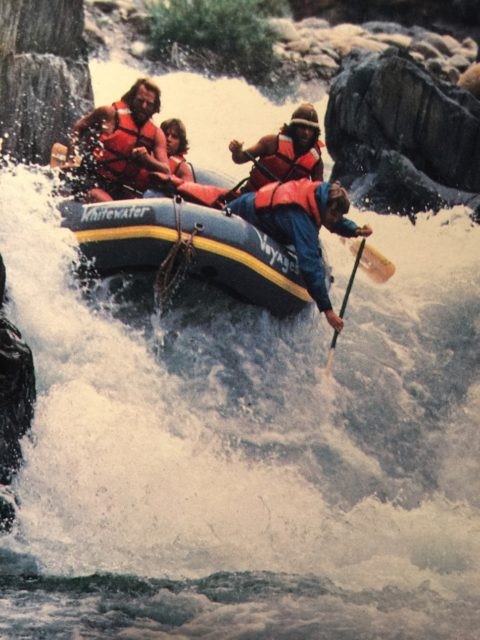 After getting spun around on the first known raft descent of Tunnel Chute on the Middle Fork American, McGinnis turned around to draw through a crew that included Jim Cassady, Mike Grant, and Dan Grant, circa 1982.
We were always looking for the next great trip. Sometimes they turned into good commercial runs like the Cal-Salmon, Burnt Ranch Gorge, and the Middle Fork of the American. Other times, for one reason or another, they were best left as training trips. The Middle Fork Feather, South Fork Trinity, and Giant Gap all fall into this category.
Eventually Whitewater Voyages got spread too thin, and I was ready to retire from the business anyway. I sold the various operations to a few different parties. Now I have time to raft when I like, and work on my latest book. It will be called Gold Bay, a futuristic novel set in the Bay Area. I still live there, go sailing (even out the Gate in a better boat now), and walk the creeks.